Mark - Posterior lateral interbody fusion (PLIF)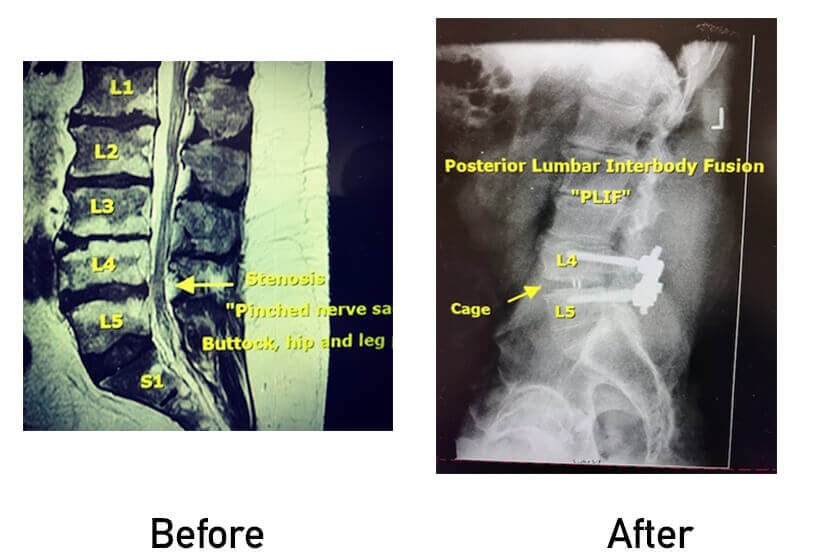 Name: Mark Fangio Date of Surgery: March 5, 2018
Type of Surgery: Fuse L4 & L5
Why did you have surgery? Condition/trauma? Sports related injuries suffered while young.
What were your pain/symptoms prior to surgery? Lived with the pain for more than 40 years. Given the chance I would offer counsel to our young to stay away from football. Finally got to the point where I couldn't work or play golf.
What was your quality of life prior to surgery? Any limitations? It was a struggle to say the least. My activities had been reduced by more than 50%.
How was your initial visit with Dr. Carll and his staff? I had done some research and had several visits with other doctors. After meeting Kendal, I knew he was a straight shooter. I laughed when he went over my x-rays the first time. He looked at me and said, did you ride bulls? Off course I didn't but the Injuries were very consistent with high energy Impacts.
What all treatment did you try/fail prior to surgery? I did try Injections at another facility. The results were limited and short lived.
What helped you make your decision to have surgery? I had tried all the non-invasive treatments, and was left with zero other options.
How was your experience the day of surgery? I was well cared for and had been given enough Information to feel comfortable with the procedure. I guess you might say It was extremely good as I woke up. This Is always a good thing.
How was your recovery process? Recovery for me was easy as I spend 10 to 12 hours a day on my feet. As a matter of fact, I have a walker with no miles on It.
What do you do for work? How long until you were able to return to work from surgery? My wife and I own a construction business, and are very active.
How long did you do physical therapy? Was it helpful post-surgery? I did the therapy for a couple of weeks. It was helpful.
What is your quality of life now? Life Is great for me now. Very little pain.
Would you refer Spine Care of North Texas? I absolutely would recommend Spine Care of North Texas.
Any additional comments? I would tell anyone considering this type of procedure that It can change your life for the better. Everyone Is different. For me it's fantastic. Do the physical work required and you will benefit from this.