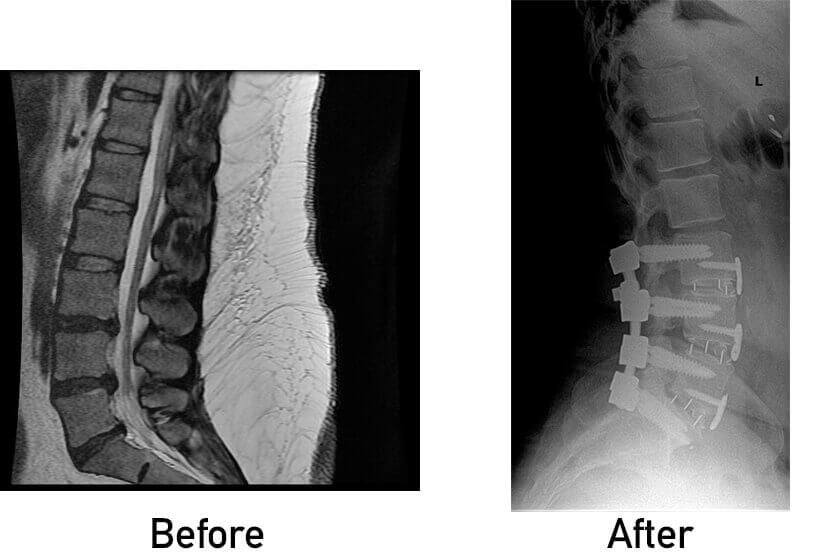 Name: Maria Ramos Date of Surgery: 10-10-2018
Type of Surgery: L3-S1 Anterior and Posterior ("360") Lumbar Fusion
Why did you have surgery? Condition/trauma? Result of a motor vehicle accident
What were your pain/symptoms prior to surgery? I had lower back pain and sharp pain in legs. I couldn't sit or stand for prolonged periods of time. I felt crooked when standing upright.
What was your quality of life prior to surgery? Any limitations? My days were spent in pain. I did not have much of a social life.
How was your initial visit with Dr. Carll and his staff? It was great! We sat down, discussed my issues, and made a care plan together. We set the date for surgery.
What all treatment did you try/fail prior to surgery? I tried chiropractic treatments, pain medications, physical therapy, and spine injections with a pain doctor.
What helped you make your decision to have surgery? Dr. Carll's confidence that the surgery would make me feel right again…
How was your experience the day of surgery? Everything was going great; I only had post-surgical aching and sorenss, no back pain!
How was your recovery process? Recovery was hard at first, but every day I got stronger.
What do you do for work? How long until you were able to return to work from surgery? Nationally Registered Medical Technician.
It was 11 weeks and 6 days from my surgery until I returned to work without restrictions.
How long did you do physical therapy? Was PT helpful post-surgery? I completed 9 weeks of physical therapy. It was extremely helpful and strengthened my entire body.
What is your quality of life now? I have absolutely no restrictions.
Would you refer Spine Care of North Texas? Yes! To everyone I know and to everyone I don't know!
Any additional comments? Dr. Carll and his staff are the best, A+! They truly care about patients. No amount of thanks is enough.